Step 5: Visiting the apartment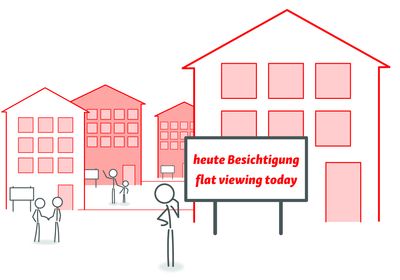 Arrive punctually for your appointment. It could be useful to bring an additional person who may take a second look at deficiencies. It is important to write them down. Frequent deficiencies are floor damages, holes in the walls, leaky windows or mold. Do not hesitate to ask the landlord, whether the deficiencies will be removed or not. If you like the apartment: Ask the landlord, which documents are needed and ask her or him to fill in form 2 (for form designations see step 1).
Assumption of costs for renovation
If you want to rent an unrenovated apartment, you can get money for renovations from your funding agency. An examination of each individual case is necessary. Precondition is that the lease and form 2 confirm, that the apartment has been given over without renovations and that the landlord will not assume the costs for renovation. Jobcenter customers can request the payment of renovation costs in form 3 under 'sonstige Kosten'. An apartment is in need of renovation if there is no flooring or if walls have to get repapered and repainted.